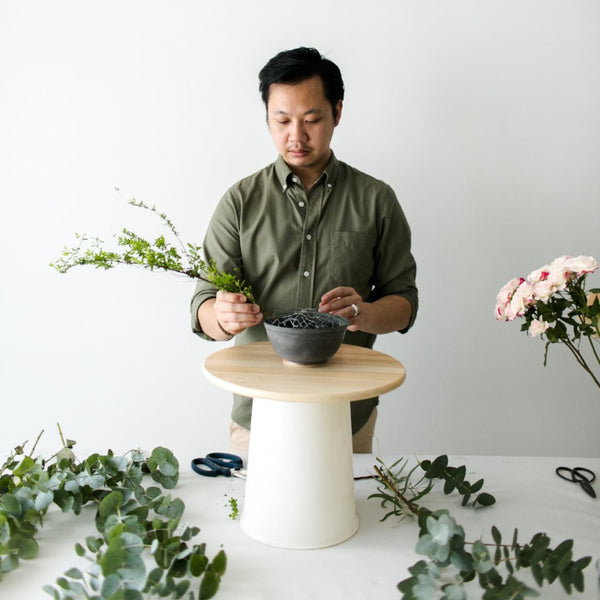 1:1 Private Floral Session
Bloomen offers 1:1 private sessions with founders Daryl & Hema in tropical Singapore.

Daryl & Hema invites you for an exclusive floral design session where you will get to learn either one (1) of the following options:


Romantic Bridal Bouquet Design
Lush Centerpiece Design

The workshop focuses on the importance of visual design and colour theory that can be applied to floral design.

This session is perfect for attendees to explore and create their own style with the guidance of Daryl and Hema's experience in floral deisgn.
Sessions are approximately 4 hours long and includes:
Essential tools such as floral shears, apron, silk ribbons(bridal bouquet class), vessel(centerpiece class), drinks and snacks.
All fresh florals and foliages are provided which are available for take home
Floral design lesson on chosen topic
Hands on session with guidance to create a beautiful floral masterpiece
Some time for tips on styling and phone photography which can be used in your website, social media and portfolio. 
Q & A session to ask anything from planning, sourcing, pricing etc.
Classes are available to participants of all levels experience.

LOCATION
Studio Bloomen
17 Joan Road, Singapore

INVESTMENT
SGD 500

FINE PRINT
1. 1:1 Sessions do NOT include:
Travel/Transportation
Accommodations
Meals
2. Your purchase is meant for one (1) attendee only.
3. ALL final payments are due one (1) month prior to the start of the workshop.
4. ALL payments are non-refundable and non-transferrable.
5. Upon confirmation of payment, Bloomen will confirm a date and time for your workshop. 
Photo by Maritha Mae Photography.